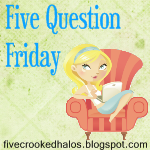 It's been awhile since I played on this one so here goes! If you want to play, head on over to Mama M's, My Little Life and link up!
1. What were your school colors?
Our school colors over at BHS were red and white and our mascot was one of those, now politically incorrect Indians. We had the now politically incorrect team name, the Red Raiders. Incidentally, I have never, ever looked good in red. A nice navy blue would have suited me better.
2.
What's the best compliment you ever received?
My grandfather once wrote that he was proud of me. I can't tell you how much of a long time coming that one had been. And I really love when people compliment my writing.
3.
Do you buy cheap or expensive toilet paper?
Cheap, recycled, good for the planet, not quite as bad as leaves on your butt stuff from Trader Joes. I love it. I can't abide fluffy, perfumed, lint filled, sissy paper nor can I bring myself to pay for such, if you'll pardon the pun, crap.
4.
Have you ever had a surprise party thrown for you? Or have you had one for someone else?
No for which I am entirely grateful. I can't think of anything I would like less that to be surprised with a party. Not really the party girl type. I did pull off one for my husband back in college that went over really well. With enough Jack Daniels he was up for anything.
5. What is one
material
possession that you "can't live without"?
Tough call, but equally divided between my smart-phone, (more fondly known as my smart-ass phone), my Nook and my computer. I would be pretty devastated to not have any of those things around.